What is the global smartphones market share in 2022?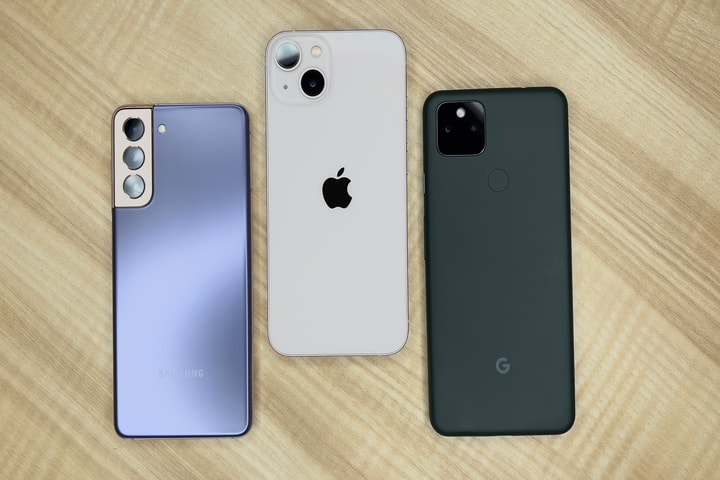 Not only are "smartphones" more expensive than ever, but they sell more than ever. The premium mobile market, above 443 USD, had a year-on-year growth of 24% in 2021. According to the firm Counterpoint, Apple and Samsung models account for 77% of sales in this segment.
The industry sector analysis firm Counterpoint has published its "Market Pulse Service" report that reflects the state of the high-end smartphone segment in each region of the world.
Counterpoint data shows that more premium phones sell like hotcakes, and the segment has seen 24% year-on-year growth in 2021 versus 7% for the smartphone market.
Apple Share in 2022
Apple is the market leader brand in this segment without contest. It accounts for 60% of sales, a percentage not reached since 2017, based on the success iPhone 12, iPhone 13 series, and is the best-selling in all markets in 2022: North America, Latin America, Western Europe, Eastern Europe, China, India, the Middle East, and Africa.
Also Read: How to change the fonts in WhatsApp without installing third-party apps
Samsung Share According to 2022
With a 17% market share, Samsung ranks second in all regions except China and India, where Apple is followed by Chinese brands Huawei and OnePlus, respectively. 
Samsung has 6% year-on-year thanks to sales of the S21 range, which has performed better than the S20 and has established itself in the foldable smartphone segment with the Galaxy Z Fold and Flip, which have sold exceptionally well in South Korea, North America, and Western Europe.
Counterpoint points out that problems hampered the brand's supply of certain components and the absence of a new Galaxy Note in 2021.
Oppo & Vivo
Oppo and Vivo have doubled their sales in the high-end segment with 116% and 103% growth, respectively. Launching the Reno brand within the affordable high-end segment has worked for Oppo, especially in China, ranking third behind Huawei. 
It is the fourth best-selling brand in Western Europe and the fifth in Eastern Europe and India. Vivo's growth has sales of the X60 and X50 series in China and Southeast Asia, ranking fourth.
Xiaomi's sales
Xiaomi's sales drove by the Mi 11 series, which has allowed itself as the third brand in the two European markets, fourth in Latin America, the Middle East, and Africa, and fifth in China.
Other manufacturers that have improved their market shares compared to 2020 are Motorola, fifth in North America and third in Latin America, Asus in Eastern Europe, the Middle East, and Africa. Thanks to its "gaming smartphones" and One Plus, the second brand in India and fifth in Western Europe.
Tarun Pathak, director of research at Counterpoint, has pointed out about sales growth in the high-end segment that "Apple, OPPO, Vivo, and Xiaomi, were aggressive in the premium market gap left by Huawei, especially in China and Western Europe, which fueled growth in the segment. Amid supply chain issues, they prioritized devices in the premium segment with increased margins and profitability.
The growth rate was higher in 2021 as the pandemic affected sales and release schedules in 2020."
Counterpoint Senior Analyst Varun Mishra foresees that "another ample opportunity to drive the segment would be Huawei's installed base of users in China, which is approaching its replacement cycle.
Competition in the premium segment from China has been intense, but Huawei will maintain its second position in 2021, indicating a future opportunity for other OEMs. In addition, the launch of foldable at a lower price than before will also drive growth in the premium market. Samsung has shown foldable as a viable market. A foldable phone from Apple will be a nod to the strength of the technology and further fuel growth.